The Story of Cindahope

My mom, Nancy Hildreth, had her first Sheltie litter in 1958. At first, she had trouble coming up with a kennel name. She and my dad, Richard, thought about combining their names, as others had done, but felt Nan-Dick kennel left something to be desired. Finally, she took Cinda from the name of one of her first Shelties, Rhodes Golden Cinderella, added hope and voila! Cindahope! She registered her name with the AKC in 1959.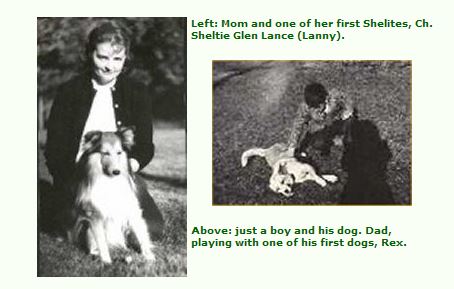 Mom bought her first champion from Sea Isle - Ch. Sheltie Glen Lance. Many years later, Lanny is fondly remembered by my mother. Sweet and gentle, he loved children and especially loved my mom. As with many of our male Shelties over the years, Lanny always wanted to be by her side and would follow her from room to room as she did her housework and took care of her kids.

Mom and Dad finished their first Sheltie, Ch. Neilly O'Havic, in 1975. Neilly was the 22nd and last champion of BIS/BISS/AM/CAN Ch. Malpsh Great Scott ROM. We bought Neilly from Hazel Mott of Havic when Neilly was 10 months old. She quickly became a "daddy's girl" as she loved to be at Dad's side.

Although my parents didn't have a lot of champions in the early years, they did own and breed producers of champions. Cindahope's Lovey Dovey (Ch. Betsubar Ringmaster x Deerfoot's Queen of Spades) was bred to Ch. Halstor's Peter Pumpkin - producing Sunnybrook's Abby of Cindahope owned by Rebecca and Charles Cram (Sunnybrook). They bred Abby to Ch. Romayne's Sportin' Life ROM and produced three champions - Ch. Sunnybrook's Barnaby Jones, Ch. Sunnybrook's Dream a While and Ch. Sunnybrook's Matchmaker. Matchmaker would later produce Ch. Sunnybrook's Heritage Spirit ROM/ROMC. (There is an article on Heritage Spirit in the Sheltie International June/July '97 issue under "Sheltie Greats," pgs 50-53.)

Our next champion was Ch. Beltane Bonnie Jean - a daughter of Ch. Beltane Kitty Macleish (a Great Scott granddaughter) and Ch. Halstor's Peter Pumpkin ROM. We bought Bonnie when she was a just a puppy from Barbara Curry of Beltane. Bonnie was not only the second dog we finished, she turned out to be the matriarch of a long line of champions for us. (see "Bonnie's Family" below)

Cindahope did not just "do" sables. We had a beautiful blue merle bitch named Ch. Cindahope Heavenly Songfest ("Jan"). Jan was the first champion that was owned and bred by my parents. Her sire and dam were Marji's Brandy's Toby Tyler (who we co-owned with Ruth Merrill of Goldenledge) and our own Banchory and the Angels Sing. Jan was shown by Linda More and finished very quickly. It's not hard to see why, when you consider the fact that Jan was known to give judges kisses while being examined on the table.

Jan was Winners Bitch, Best of Winners, and Best of Opposite at the SSC of Greater Baltimore in April '81. Jana-banana also got a CD, with a little help from Dad, when she was 10 years old.

In the early eighties, my mother and Ruth Merrill (Goldenledge) bought a handsome bi-black male from California named Sumersong Conv'rsation Piece. Conner was the son of Ch. Sumersong Hurry Sun Down and Sumersong Glory Bi Night. We finished Conner in 1984. An interesting bit of trivia is that Conner is the only bi-black Sheltie to win the working group. Conner's win is mentioned in an article in the 1987 ASSA Handbook called "The History of the Bi-color Sheltie" (written by Jean Simmonds).

Our next male champion was Ch. Mainstay Atitude Adjustment - a Heritage Spirit son out of Ch. Mainstay Rumor Has It. Chipper finished in '85 when he was 18 months old.

Chipper sired 6 champions - Ch. Appleton Blossomtime, Ch. Brandymen's Royal-T-Bear, Ch. Westwood's Chorus Girl, Ch. Valdawn's Star Attraction, AM/CAN Ch. Ventura's New Attitude, and AM/CAN Ch. Kylene Cindahope Town Cryer ROM.

T.C. was bred by Kathy Dziegiel and Richard Hildreth and owned by Kathy Dziegiel and Arlene Bulens of Kylene. Kathy handled T.C. to his championship in 1991. Since then, he has sired 34 champions (including four of our own champions).

Kathy and Arlene bought their first champion from us - AM/CAN Ch. Cindahope Crystal and Gold HC a.k.a. Sara Lee (as in "nobody doesn't like Sara Lee..."). Sara is the daughter of Ch. Rockwood Goldstrike ROM (owned by Barbara Kenealy) and Ch. Park Ave's Crystal Clown (owned by Betty Belliveau). Kathy finished Sara Lee in 1987.

Sara was not only Kylene's first champion but she also produced their first home bred champion - AM/CAN Ch. Kylene-T-Thirty Eight HC (Talon). She is also the mother of Town Cryer.



Bonnie's Family
Bonnie Jean will always have a special place in my heart. You see, I grew up with her. Many, many, years later, I still have vivid memories of Bonnie Jean.
Bonnie was an excellent babysitter. No matter what mischief I got up to with her she'd stay near. Whether I was pretending she was a pony or (attempting to) carry her around the house - Bonnie put up with my foolishness as if I was her own pup. She didn't even mind when I'd climb into her whelping box to cuddle with her puppies. Bonnie was laid back yet full of personality. She loved to get splashed. Whenever I went to the pool, she would come running. She's bark and wag her tail as I splashed and laughed. Perhaps Bonnie's most peculiar habit was jumping on top of the dog house to bark at the squirrels in the trees. She never did catch one but she did knock over the dog house a few times. Tolerant, playful, loving, agile, and just plain silly...these are just some of the qualities of Bonnie Jean that I still see in her family many generations later.
As mentioned in the section "our story," Bonnie Jean became the matriarch of a long line of champion Sheltie bitches for Cindahope. Pictured below is a litter Bonnie had with AM/CAN Ch. Barwoods Weather Report ROM. Two of the five became champions. Can you guess who?
The puppy in the middle became Ch. Cindahope Bonnie Prospect (owned by Connie Porter) and the first puppy on the left became Ch. Cindahope Tammy Macpherson. Tammy was co-owned and named by my sister Ellen Hildreth.
Tammy was bred to Cindahope Bad News Bear. Bad News was a Bonnie grandson also by Weather Report. The result was Tammy's best friend and housemate AM/CAN Ch. Cindahope's Ruffian CD.
Ruffian was shown successfully and finished by Linda More in 1984. Ruffy finished her show career with 30 Best of Breeds, 34 BOS, and a CD.
Tammy and Ruffian often enjoyed walks in the wilderness with Ellen and her husband Eric. While on these trips, Ruffy was constantly on the search for the best stick to carry. Of course, when she found it no one else was allowed to have it. Not even her mom! They loved to come visit us at Cindahope Farm and play the hay rope game with our other dogs. For those of you who don't know, the hay rope game involves as many Shelties as possible grabbing onto a hay rope and running around the yard. Naturally, Ruffy was
always
the last one on the rope.
Quite the opposite was Ruffian's daughter - Ch. Cindahope Serendipity (by Ch. Sunnybrook's Heritage Spirit ROM). Dippy, as all who loved her knew her, was more likely to be seen lounging on the couch waiting to be patted than trying to get someone to play tug of war (Ruffian always won that game, too).
Dippy was co-owned with Rose Baccus Hossler (Brookview). Before she was finished, Dippy was bred to Ch. Macdega Glenhart Grand Prix ROM. Three of the bitches in the litter became champions.
Because of her offspring, Dippy was featured in the Aug/Sept '94 issue of the Sheltie International as one of the "Bitches of Significance." The article was written by the founder of Cindahope and my mom, Nancy.
Michelle finished in 1989 and retired at Cindahope farm with her sister Tess. Michelle produced a champion by Ch. Connemara Shortstop - Ch. Sunnybrook's Cindahope Sin-D. She is the 6th in a line of champion bitches bred by or owned by my parents.
Taylor is owned by Melinda Turner and finished in 1990 (the same year as her mom, Dippy). Taylor was bred to AM/Can Ch. Ventura New Attitude (a Chipper son) and produced two champions - Ch. Madeira As Life Goes On and BIS/BISS Ch. Cindahope Picure Perfect CC.
We co-owned "Picture Perfect" aka Kissy with Kathy Dziegiel of Kylene. Kissy was the puppy back we got for selling Taylor to Melinda Turner (how lucky for us!). Kissy was a great show girl and loved showing off while going around the ring (to put it mildly!). Kathy Dziegiel wrote an article about Kissy in the Aug/Sept 1996 issue of the Sheltie International. Kathy showed Kissy beautifully. Kissy ended her career with over 100 Best of Breeds and received an Award of Merit at the 1999 ASSA National. She even had time in her busy show schedule to be bred to Ch. Benayr Sentimental Journey and produce this next lovely lady (the Sheltie, I mean...).
Bridget was co-owned by Karen Dickinson (Fortune), Kathy Dziegiel, and Arlene Bulens (Kylene). Bridget and Kissy are the only mother-daughter members of the Century Club. Great job girls!!!
Bridget has also found time to produce a champion - Ch. Kylene Cindahope Pretty as a Picture (aka Buffy the Vampire Slayer!).
Buffy is the daughter of Ch. Ozark Crest City Slicker (a Town Cryer son). She is owned by Linda Knight & Nancy Cooney (Millstone) and the ladies at Kylene. Buffy is the eighth in a line of champion bitches bred/owned by Cindahope and tenth champion on her female tail line.
Tess came all the way from the Veterans class to win the ASSA National in 1997. This gorgeous girl finished her championship in 1988 and in 1992 received an Award of Merit at the ASSA National. Her next trip to the National in would be both disappointing and very fortunate. You can read about this and Tess' win at the ASSA National a few years later in an article in the Dog News (July 4, '97) or visit the author's page by clicking -
Kim Schive's article
.
Tess' daughter Tasha (by Sunblest I'm on Fire) almost wasn't a champion. When she was a puppy, we sold her as a pet. Several months later, the owners were having trouble with their landlord and had to bring Tasha back. My parents couldn't believe how beautiful she had become. My Dad bought her back and before long Tasha became Ch. Cindahope Farmer's Daughter.
It is ironic that Tasha would get the name "Farmer's Daughter." She became a favorite companion of my father. Also, even at 12 years old, she had a grand old time helping Dad by herding our goats in and out of the barn (whether they liked it or not!).
In 1990, Tess was bred back to her father Ch. Macdega Glenhart Grand Prix ROM/ROMC and we were blessed with a sweet, funny, little Sheltie girl who I named Sunshine, Cindahope Sunshine Girl.
Sunny was never shown but she did produce four champions out of three litters by AM/CAN Ch. Kylene Cindahope Town Cryer ROM. In 1996, Sunny received a Certificate of Acheivement from the ASSA when two of her kids, Jeanie and Punch, finished their championships. Our sweet Sunshine Girl passed over the rainbow bridge in July 2007 at the age of 17, while her mother Tess had passed over just 2 weeks after her 18th birthday.
Jeanie Frances finished her championship 3/16/1996 when she won Winner's Bitch and Best of Winners at the SSC of Greater Baltimore. Most recently at the 2006 ASSA National, Jeanie Frances took 1st place in the 12 years and over Veteran Bitch Class. We were so proud of our Frances! Littermate Jessica Anne (Ch. Cindahope Ventura Elegance) also did well for herself earning a 4th in the same class. (pictures coming soon)
Although Jeanie Frances began her agility career late, she earned multiple titles in multiple agility organizations. At her first agility trial (after only about a month and a half of training) she got a leg toward her AKC Novice Standard title and first place.
Jeanie has produced two champions by Ch. Macdega Sausalito. Tuffy (Ch. Cindahope Trade Secret) is currently living on Cape Cod with a nice lady named Sandy Taylor who also does agility with him.
Ch. Cindahope Trademark TD (Therapy Dog) ROMC was shown in Junior Show, Breed, and agility by Megan Nelson after being shown and finished by Tom and Nioma Coen.
Jessica Anne was the first of Sunny's kids to finish her championship when she was 20 months old. A month later, she received an Award of Merit at the ASSA Nationals in Marlborough, MA (May '95). At the time, she was the youngest Sheltie ever to accomplish this. Like her sis Jeanie Frances, Jessica also did agility with me and earned multiple title in multiple agility organizations despite a late start.
Punch, CH. Cindahope Golden Gloves, finished in 1996 and is the eldest of Sunny's four champions. We lost this boy due to a very tragic accident while he was a young dog. His bright-eyed happy go lucky demeanor is still sorely missed.
Sunny's youngest champion, Jared, finished in 1998 with his nephew Mark. On his way to his championship he won 4 Best of Breeds and 3 group placements! Jared is owned by Sue St. Louis (DVot'd) and has gone on to get CDXs in the AKC and UKC. Even though he no longer lives with us, we are very proud of this special guy and his accomplishments with Sue.